This is a game that I picked up from the Barnes & Noble red dot sale. It was a mystery game for me and I had no idea what I was delving into but how could you not roll the dice on a $10 game? Set up doesn't take very long but it does require some reading on your part, as you have to separate the gold cubes into piles, which can become an excellent counting exercise for younger children. Player 3 also really enjoyed the theme of the game and jumped at the chance to play a sword wielding orc looking for gold.
This small yet excellent tabletop game did surprised me as the complexity is geared for for children and adults alike. You get one action each turn and two things to choose from. You can either put down one of your soldiers or you can put down two fence pieces. The seemingly simple game architecture has a huge level of complexity once you get into the thick of it. You will start to realize that each piece you place should be highly strategic and efficient.
As long as your child doesn't put things in their mouth this is a perfect game for children of all ages giving them a great start on strategy building and adaptability as those are the main focuses of this game.
Ultimately remember to let your children have free reign on their turns instead of telling them where to place bits. Since it might take them a little bit to develop their strategy but once they do, you'll start to see their random actions turn into a full-fledged plan.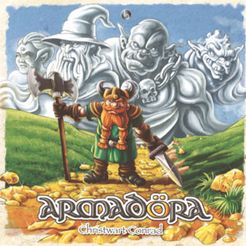 Age my Child Played: 5 , and any game savvy 4 year old could play too but the more challenging strategy concepts might get lost on them. (Box Recommended Age: 8+)
Skills Required: Not putting stuff in your mouth.
Skills Acquired: Memory, problem solving, beginners strategy building.
Over all I would classify this game as a great starter for those just getting interested in board games or a challenging filler game for veteran gamers. The game play is simple and has quick turns so this becomes a great  "table time" builder. Which is an important step in your children's board game success.
Have you had a chance to play Armadöra with your child? If so, I would love to hear what age they were and if they enjoyed the game in the comments below.