Here's a game that was built for kids. Now I don't usually recommend playing children's games with your own Player 3 at home. However this one had great reviews and it won the Kinderspiel des Jahres in 2014. So I was super excited to try it out. As well as equally sad that it wasn't printed in the U.S. So began my quest to find the best deal on shipping from Germany! Two weeks later, Player 3 and I were ravenous to open this box and see what was inside. The game had been hyped up for me by hours of You Tube videos and as we opened the box we weren't disappointed by all those cute little ghosts at our fingertips.
In fact, as we started to set up the first thing Player 3 commented on was the ghosts similarity to little ghosts on PacMan. Which I didn't think about before but dealing with a haunted house could have gone horribly wrong thankfully none of the figures or hauntings were particularly threatening. Instead I was pretty impressed with the heavy duty plastic these suckers were made out of. Even the game board had beautiful art on it displaying a Victorian style house with details in every room. Set up was very simple but game play was a whole different story.
Now at this point I know what you're thinking "but this is a German game! Don't you need to know German to play?" And the answer to that is, no. The only German text in the game is on a few of the game cards which are illustrated and easy to figure out. Also there are plenty of English demonstrations online, on how to play this game.
Although after we got started and to my surprise Player 3 left the table mid game. I repeat Player 3, left the table! Now this hasn't happened in about two years as she's usually fully engaged in every game we play but sadly Geister Geister Schatzsuchmeister was too simple of a game and it didn't take her long to figure that out.
In the end this made me pretty sad because I felt like I spent a lot of time trying to get this game but the silver lining is that this is a game she can teach to her friends and probably play with them on her own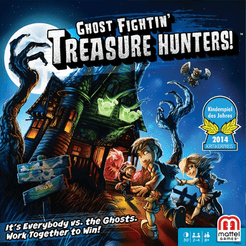 Edited Rules: None
Age my Child Played: 5 , this game was too simple for my Player 3 and if you watch your kid around the pieces this would be a great game to introduce to your child at 3 or 4 years old. Just remember it's a co-op, and not your job to tell people how to play their turns. (Box Recommended Age: 8+)
Skills Required: Not putting stuff in your mouth.
Skills Acquired:  Counting, number order and number recognition.
Replay Value: Replay value on this is pretty low as there wasn't a whole lot to learn from it and no room for advanced strategy. However a great game to reinforce number order with.
Review: Bottom line this is an excellent game for children who don't play games or are just starting out. In fact I would list this along with my starter games as it is a great introduction on how to play and stay at the table. Otherwise I think some of the mechanics make the game a bit slow and the game really only has one strategy which limits the creativity of what players can do.
Have you had a chance to play Geister Geister Schatzumeister with your child? If so, I would love to hear what age they were and if they enjoyed the game in the comments below.
.